Bingo's Breakdown: Will they ever be champ? (part 2)
Posted by Nik on Friday, November 5th, 2010
Greetings jabronis,
Here lies the concluding part to the column I kicked off last week. For those who correctly predicted that part two would follow part one, give yourselves a hearty slap on the back and reward yourself with a packet of Jolly Ranchers (though try to avoid the watermelon ones).
If you missed last week's column, I must ask why? I find that deeply offensive, and if you can't find the time to read my work then, quite frankly, you don't deserve to own a computer. Thankfully, via the futuristic invention of hyperlinks, I can point you to it here. So amend your sins and check it out…
http://www.wrestling-edge.com/?p=21750
Now on with part two (this will be one of those rare occasions when the sequel is even better – I promise)…
John Morrison
John Morrison has gotta be one of the most frustrated guys in the business. He's over with the crowds, he's a mega-talented in-ring performer, he can cut it on the mic (WWE does script him some awful material though… but that's not his fault), his work rate is always beyond commendable and he's surely played his part in the midcard for long enough. So when will be given the long overdue chance to step up to the big boy league?
As fate would have it, a chance for Johnny to maybe shift up a gear has presented itself just recently. He has commenced a feud with Sheamus which will do him no harm (it's quite odd to consider that someone as talented as Morrison can benefit from a feud with someone who's been in the company for about a quarter of the time that he has), and it should indeed make for a couple of entertaining PPV bouts. Where WWE decides to go with the feud will be interesting… if Morrison goes over then logically his next feud will have to be with someone even further up the roster – Orton or Cena perhaps. But if Sheamus proves the victor in the feud, then Morrison will be back at square one, lighting up the midcard as maybe his destiny has laid out for him.
He undeniably has all the perfect ingredients to be a main eventer, but nobody in the WWE creative team has ever quite mixed those ingredients together correctly and baked them at the right temperature. That was a terrible analogy… but I make no apologies. One thing that I believe would help Morrision reach the upper echelons would be to turn him heel already! He's just too damn handsome to be a babyface. Male wrestling fans (of which there are many, I'm sure you've noticed) do not want to cheer on guy who arouses their girlfriend/wife/sister. Boos are logically where it's at for the Shaman of Sexy. That grotty beard of his has suggested to me that a heel turn is on the cards (since watching 24, I assume everyone with facial hair is a baddy), and thus I eagerly anticipate its arrival.
Crystal balls say: Certainly has the necessary talent, but will he ever receive the necessary push? I think yessss. One day.

Evan Bourne
We'll get it out of the way from the outset – Evan Bourne is small. Not just by wrestling standards but also by regular human being standards. It's easy to point to Rey Mysterio and say that if he can climb the mountain than so can Bourne – but Bourne does not pull in masses of Hispanic viewers nor does he have the marketability of Rey Mysterio (admittedly Rey Mysterio's marketability can be summed up as being "a mask"… but hey, it works.)
Bourne is a talented performer and I enjoy his matches… but, much like similar performers over the years (see: Jamie Noble, Brian Kendrick, Shannon Moore, Paul London etc) he will never be a main player and will primarily keep his place on the roster to put over the next muscley meathead. One thing that guys like Bourne have going for them, which ironically also contributes to their downfall, is that they can sell like no man's business. Bourne can make it look like he's been legitimately hit by a truck when in matches with bigger guys.
So watch out for Evan Bourne to be crushed by the rather useless Ezekiel shortly after his return. I'm calling it now.
Crystal Balls say: Would struggle to win the world title even in a video game.
Kofi Kingston
Kofi's WWE career chart is rather reminiscent of a particularly well-architectured rollercoaster thus far. He's enjoyed the highs and, by jove, he's suffered the lows. Just over a year ago he was in the midst of a high profile (and most enjoyable) feud with Randy Orton, yet these days he finds himself relegated to Smackdown doing very little of note (I'm not bad-mouthing Smackdown… but it is a relegation in WWE's eyes) and even appearing on jobber fodder broadcast "Superstars" with alarming regularity.
Kofi seems tailor-made for the PG era – he has a kiddy-friendly image (in a totally non-paedo way), surrounds himself with loud noises (BOOM!) and colourful attire, and he has one of those flashy wrestling styles than even non-fans can appreciate. It this were the Attitude era he might be in trouble… but we're not. So he's good.
Another thing going in Kofi's favour is his ethnic origins. I don't want you readers to think that I'm being deliberately controversial in bringing up his skin colour – because it's a pretty established fact that the WWE always endeavours to have at least a couple of African-American in prominent (ish) positions on the card. They even hired back D'Lo Brown short-term for that sole reason a few years ago when the company suddenly found itself without Booker T and D-Von Dudley on the roster. So as long as Kofi doesn't turn white one day – his ethnicity is certainly another string in his bow.
Although Kofi has briefly displayed in the past that he can do "serious" (by smashing up Orton's Nascar, the mindless vandal), I don't see it being a staple element of his long-term character. Similar to R-Truth and Evan Bourne, he has the aura of being almost a novelty act – someone who will always precede the main event – and I just can't perceive him as ever being strong enough to carry his respective brand.
Crystal balls say: Chances aren't totally non-existent… but are slim at best, a bit like an anorexic diva.
Cody Rhodes
Largely perceived as being the Marty Jannetty of Legacy, Cody Rhodes has genuinely done a fantastic job of establishing his new heel persona of late. I happily confess that I find his grooming tips hysterical – and if you find yourself annoyed by them… that's the point! Hooray for obviousness!
Cody reminds me of when Edge and Christian split and everyone (including myself) figured that Christian would slip down the roster… But he went on to become what I consider to be one of the most entertaining heels in the history of WWE – and Vince should have been slapped silly for letting him jump ship to TNA. Having him work as a face since his return has been a complete waste of his ability to be hilariously obnoxious. It's making my blood boil just thinking about it, so I'll swiftly move on before I melt or something… So yeah, the point I was trying to make that Cody is a very entertaining heel. Like Christian was. Do you see?
Akin all the current talent that were born into wrestling families (Orton, Henning, Husky, DiBiase, DH Smith etc), Cody is a component enough performer and, given the chance, his offence can be quite diverse at times – something oh so rare in modern WWE. But despite me singing his praises thus far, it's plain to see that Cody Rhodes simply doesn't possess "it". I'm not sure what "it" is – and nobody ever will – but Cody will never shift mountains of merchandise or make audiences go wild. Despite being a relative newcomer to the business, Cody has already carved out the perfect niche for himeself, and he's surely destined to play the arrogant heel for many years.
One last thing about Cody Rhodes… wrestling without knee pads makes him look sort of creepy. He resembles a naked Ken doll, which plays up the fact even more that wrestling involves a hell of a lot of watching men in their underwear. Perhaps I'm just uncomfortable will my sexuality is all. I'll book a consultation with my minister as soon as I'm done writing this.
Crystal balls say: Not a main eventer, but could still be an asset to the company for many years to come.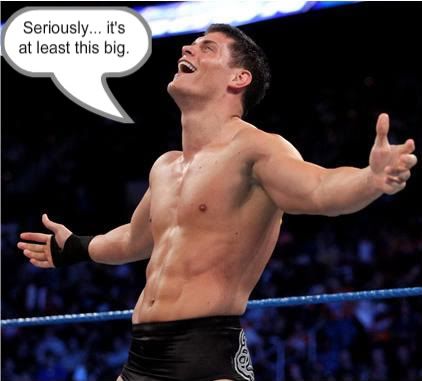 Dolph Ziggler
Who would have thought that a Spirit Squad member would one day feature so prominently on the upper midcard? And deservingly so! Despite being lumbered with the potentially career-killing cheerleader gimmick (which I happen to think was jolly entertaining), Ziggler has established himself as someone with genuine star attraction on the Smackdown brand. His recent outings with Daniel Bryan and Christian have also served to highlight that he's a damn fine wrestler too.
Ziggler has a long-standing relationship with the WWE, and that bodes well for his future. Vince would much rather push homegrown talent than performers who have made names for themselves elsewhere because that's the sort of backward-thinking zealot that he is. But you won't hear Dolph complaining.
With the likes of Undertaker, Kane and Edge (by his own admission) soon to be calling time on their in-ring careers, Ziggler has the potential to step-up and be a bonafide headliner on Smackdown in the not too distant future.
If Ziggler had arrived on the scene 10 years ago, then he surely would have got lost in the shuffle as talents such as Austin, The Rock, DX, Foley, Owen Hart etc dominated the company. He's simply not in their league. But with main event talent thinning out, Ziggler has perhaps arrived at the most optimal time to establish himslef as an impact player. And I guess that's as much a compliment to his talent as it is a criticism of the current shallow talent pool. Or maybe vice-versa. You work it out.
If / when the day does comes when Ziggler finds himself world champion, one thing's for sure – the creative team will rue the day they opted to call him "Dolph Ziggler".
Crystal balls say: Seems to have arrived at the right time. A world championship reign is a definite possibility a year or two down the line
Just for a bit of fun (everyone likes fun, right!) I've made a ranking list of the nine wrestlers I have discussed in these columns, with the guy at the top being whom I believe to possess the most chance of becoming champ. Bombs away….
1. Alberto Del Rio
2. John Morrison
3. Drew McIntyre
4. Dolph Ziggler
5. Ted DiBiase
6. Kofi Kingston
7. Daniel Bryan
8. Cody Rhodes
9. Evan Bourne
That's all from me on this subject, ladies and jellyspoons. If you think I've left anyone obvious out then comment below and explain why. I promise not to make fun of you – even if you have a stutter. (Friendly advice: I'm well aware that The Miz and Wade Barrett are obvious picks, and that's why I left them out. They're TOO obvious. So no need to bring their absence to my attention. Or I will hunt you down and kick you in the neck.)
I'll be back with my next column in time for the Survivor Series… I'm truly devastated that The Undertaker won't be there to celebrate his WWE birthday, and I'll explain why in my next muse.
Over and out.
W-E @ Facebook | W-E @ Twitter
Poll
Loading ...
NEWSLETTER
Pay Per View
ADVERTISE HERE
This advertisement spot is now open! Please check
here
if you are interested to learn more about our traffic and audience demographics.