Bingo's Breakdown: Royal Rumble Predictions
Posted by Nik on Friday, January 25th, 2013
Greetings jabronis
Please forgive my absence for the last couple of months. Holidays, Christmas, illness, computer problems and adventures in deep space have combined to hinder my ability to write wrestling columns of late. But circumstances are approaching normality, and thus my grand return occurs – just in time for the Royal Rumble.
Those of you who didn't even notice I was gone… Well… You're the greatest heroes of all.
I adore the Royal Rumble, and without a doubt it is my favourite PPV of the year. It's the one event when hardcore wrestling fans, casual wrestling fans, old- school wrestling fans, new-school wrestling fans, and even folk who don't even like wrestling at all, can hold hands in entranced unison and marvel at the spectacle.
There's a joyous level of carnal gratification achieved in watching wrestlers simply try and throw one another out of the ring – and when there is often over a dozen men in the ring simultaneously, the titillation is turned up tenfold.
That, to me, is why the event is so accessible and appealing – even to outsiders. Viewers need no background knowledge of feuds and they don't have to buy into some ridiculous stipulation or storyline. This is just a tale of thirty musclebound meatheads trying to hurl each other onto the floor. Who can't enjoy that?
Now, onto the business of who's gonna win…
US Title: The Miz v Antonio Cesaro
The Miz turning face has somehow made him even less likable to the masses. I'm sure the WWE didn't anticipate that. Telling crap jokes and sucking up to fellow babyfaces week in week out is not the way to endear yourself to wrestling audiences. I really hope The Miz finds his footing again soon though, because I still feel he can be a very valuable member of the WWE roster and I'd get a kick (possibly a brogue kick) out of seeing him force his way back into the main event picture.
Antonio Cesaro is upping his game every time I see him (how bloody awesome was his Neutraliser on The Great Khali?) and I see him keeping hold of the US title for a looooong time yet.
With that said though, I think The Miz will win here (don't faces always win the pre-show bouts?) but Antonio will retain the bling. You know the drill.
Pick: The Miz by DQ or countout
 ********************
Tag Team Titles: Team Hell No vs Rhodes Scholars
Team Hell No's graduation ceremony on RAW this week seemed like like a way to bring closure to the duo's super entertaining tag-run over the last few months. A final good-bye if you will – thus I fully expect them to drop the straps this weekend.
Daniel Bryan is one of the top 3 most over guys in the company right now, so surely a main event singles run is on the cards for ol' Goat Face.  If I were a member of the WWE booking team, I'd do everything (and everyone) I could to get Daniel Bryan vs Dolph Ziggler onto the Wrestlemania card. That would have "show-stealer" stamped all over it.
As for Kane – I'd like to see WWE keep Dr Shelby on TV as his manager. There's still plenty more comedy that can be milked from Kane having someone constantly on hand to help him deal with his anger issues.
There's only so many times Team Rhodes Scholars can fail to win the belts (How many has it been? Sixty-three?) so their time to don the titles will come at the Royal Rumble, and then Team Hell No will sadly disband.
Pick: Rhodes Scholars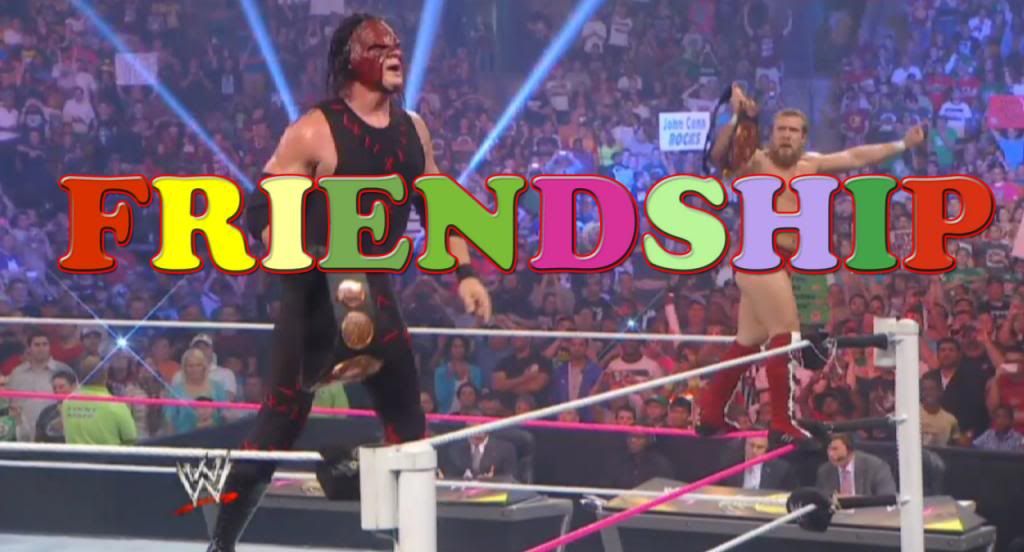 World Heavyweight Title: Alberto Del Rio vs The Big Show
Last man standing matches are usually reserved for signalling the end of a big feud… but here we're seeing the feud kick off with two of them one after the other. Go figure.
Vinnie Mac is looking to establish Del Rio, fresh from a face turn, as his lucrative Latino champion – so he won't be losing here.
Their last-standing match match at Smackdown was some entertaining stuff and made Del Rio look like a genuine double-hard bastard. Vince's problem likely is that not many people saw it (seeing as Smackdown is perceived as the "B" show more so ever these days), so why not do it again on PPV for the masses so everyone can see just how damn Alberto is now? That's why I think we're getting an encore of the stipulation.
I expect an equally creative finish as we saw in their first match (perhaps this time Del Rio will bury The Big Show in Bentleys) and the champ will be made to look like a million bucks in the process.
Ziggler will have a big part to play in the Royal Rumble, so I don't foresee him cashing in his briefcase as the dust settles on this bout. But surely his cash-in is imminent.
Pick: Alberto Del Rio
 ********************
WWE Title: CM Punk vs The Rock
A lot of us Internet-dwelling folk are predicting a swerve from WWE, and foresee us waiting until the Elimination Chamber PPV to witness The Rock once again crowned as WWE champion.
I can see the reasoning behind it. It would be unpredictable (to the non-IWC at least), it would help cement CM Punk as "the best in the world" and it would/could certainly open the door for some creative story-telling. Could The Shield still somehow still find a dastardly way to aid CM Punk? Could Brad Maddox referee the match and make some shifty decisions? Could Lesnar return to take out The Rock? Could CM Punk actually cleanly beat The Rock? The possibilities are all there.
But I can't help but think, from a business point of view, that WWE simply HAS to put the title on The Rock. The ratings boost for the product would surely be through the roof, and who could possibly be better than The Rock – the megastar Hollywood icon – to lead the charge into Wrestlemania season as the figurehead champion of the company?
So storylines, the Wrestlemania card, booking logic, part-time performers and all that aside… I'm going with The Rock to win purely because that's what will be best for business – and Vince is first and foremost a businessman. And secondly a genetic jackhammer.
Pick: The Rock


The Royal Rumble – Who will be in it?
There will inevitably be some surprise entrants in the Rumble match. WWE always does it and the audience gets a big kick out of it. So long may it continue, says I.
As of writing there are 23 performers from the current roster confirmed for the Rumble, so if my mathematical skills are as slick as I believe them to be, that leaves 7 slots open.
I think WWE will hold back on having "super old" guys participate – I'm talking guys like Hacksaw Jim, IRS and Sgt Slaughter. They make so many "special appearances" these days that any pops they'd receive would be pretty minimal, so I don't see the point in wasting a spot on them. And WWE will also be standing firm on their "Ric Flair is retired" policy.
If any wrestlers from yesteryear make a special appearance, I think the most likely candidates are The New Age Outlaws. I guess Ricky Steamboat is a slight possibility if they want to further the story regarding his interaction with Wade Barrett a couple of weeks ago  And I suppose one should never write off an appearance from the ominous Brooklyn Brawler.
As for returning superstars, I believe Mr Sexual Chocolate Mark Henry, and Mr Gold Standard Shelton Benjamin are both veeeeery likely to show up. Henry is reportedly as well healed as he's ever gonna be from his surgery, and Benjamin has cancelled a string of ROH appearances according to dirt-sheets which lends weight to his return. As far as MVP goes, he's vehemently denied many times through Twitter that he won't be present – and I believe him.
Another slim possibility is John Morrison… But according to interviews with the Shamen of Sexy, we're more likely to see him back on WWE TV in the summertime, when the weather is fine, and you got women, you got women on your mind.
If the WWE are looking to bring back a wrestler who spits in the face of people who don't want to be cool, then they should look no further that Carlito. I'm not entirely convinced that he has the correct "company attitude" that cost him his job with the company in the first place, and he wass pretty vocal in dissing HHH and the company in general in his immediate absence. So I'd mark him down as a likely no-no.
I've not heard any whispers pertaining to Christian, but he's surely due back imminently. He's certainly been missed by yours truly, and I hope Captain Charisma isn't doomed to lurk in midcard limbo for the rest of his WWE tenure when he does finally return. He deserves better, godammit.
There's always the possibility that WWE could plug the gaps with undercard guys like Alex Riley, JTG and Justin Gabriel or even "non-performers" like Ricardo Rodriguez and Brad Maddox (but please lord, not Hornswoggle). Plus Rey Mysterio and Sin Cara haven't been confirmed as entrants yet, and you'd have to assume that WWE would definitely seek to throw them in to the mix if they're available. Masks are fun, and don't you ever forget it.
Of course we'd all like to see Lesnar and Undertaker enter the Rumble, but I don't see it happening. Both names will be returning shortly to start their Wrestlemania storylines – but as they're both such major draws, WWE would surely be looking to cash in by advertising their returns long in advance. I sure hope I'm wrong though! I'd love to see Lesnar win the thing and launch himself into the Wrestlemania WWE title match, because Lesnar v HHH is certainly not a scrap that I want to see again.
The Royal Rumble – Who will win it?
The build up to the event has been promoted in a way that only one man stands a chance of winning the Royal Rumble… And that man is, of course, Yoshi Tatsu. Sorry, I mean John Cena. And sadly, I'm struggling to see it unfold in any other way.
Whether we like or not, Cena will be in the main event at Wrestlemania – and the most obvious way to get him there is to have him win the Rumble and then challenge The Rock (assuming he's champ) on the grandest stage of them all for the second "one time only" year in a row.
Yes, it's so ridiculously predictable then most of us will have anticipated this scenario months ago when it was first revealed that The Rock would be challenging for the title at The Royal Rumble.
I'm hoping and praying that WWE does pull the rug from under our feet and give us a surprise winner (as admittedly the company has managed successfully in the past), but I just can't see it. Cena had a pretty unsuccessful 2012 by his standards (as he keeps reminding us) so the storyline is set for him to redeem himself in 2013 – starting here.
But hey, I won't forget that there are 29 other grapplers involved – so here's my quick run down of the dark horses (who are more "pitch black" on this occasion)…
- For me, Ryback is too limited as a performer to be involved in a modern Wrestlemania WWE title match. I'm sure he'll be involved in a big match (rumours suggest against The Big Show) – but this isn't his time to be in the big boy spotlight. He'll make the final four without a doubt though.
- Sheamus and Randy Orton are rumoured to be facing off against each other at Wrestlemania – and inserting them into either title race at the moment wouldn't make much sense from a booking point of view, so neither are likely winners for me. I think the two will tangle during the Rumble and somehow end up going over the top rope together.
- The Miz, Kofi Kingston, Wade Barrett and Rey Mysterio are all way too "midcard" at the moment to be considered serious contenders.
- Dolph Ziggler will presumably be entering in the number one spot, so odds are he will be put over as "the guy that lasted the longest" in the Rumble. No doubt he'll have a stellar outing, but he won't win the thing. The fact that he still holds the MITB briefcase means he doesn't even need to.
- If The Undertaker and/or Brock Lesnar do enter the fray, then obviously they will instantly be recognised as a mega favourite… But it's a mighty "if".
- My second favourite to win (and it's a distant second) is Daniel Bryan. As I outlined earlier, not only is he super over at the moment – he's also arguably the most talented wrestler on the roster right now. Bryan winning the Rumble would certainly be a welcome and well-received victory by the masses – and then (keeping Ziggler's briefcase in mind) WWE can build to a Daniel Bryan v Dolph Ziggler world heavyweight title match at Wrestlemania. But I fully appreciate this is wishful thinking on my part.
My prediction for the final four is John Cena, Dolph Ziggler, Ryback and Daniel Bryan. And your winner will be the invincible John Cena – which is painful to type.
I'd like y'all keep in mind that I don't hate John Cena (though I do find him pretty damn intolerable at times), it's just feels to me that a Royal Rumble victory would be wasted on him. He main events PPVs all the time anyway, and people would accept him being in the main event at Wrestlemania simply because of who he is. He doesn't really need to win the Royal Rumble to be there – so let someone else have it on their CV. You dig? If does win, I hope the fans in attendance riot the crap out of that arena.
Pick: John Ce… Zzzzzzzz
Those are my picks, jabronis. Please add your own below. I love it when you do.
Despite the event looking very predictable on paper (I think most wrestling fans will make exactly the same picks as me) I will still be watching the Royal Rumble live because it's such a kickass event. I will just have to endure watching it in a very uncomfortable position as I cross my fingers, arms, legs, toes, eyes and testicles in the hope that a John Cena victory doesn't come to fruition.
Over and out
W-E @ Facebook | W-E @ Twitter
Poll
Loading ...
NEWSLETTER
Pay Per View
ADVERTISE HERE
This advertisement spot is now open! Please check
here
if you are interested to learn more about our traffic and audience demographics.